Food Giant Unilever suing Hampton Creek for daring to offer a cruelty-free and sustainable alternative, whining that: "Just Mayo already is stealing market share from Hellmann's"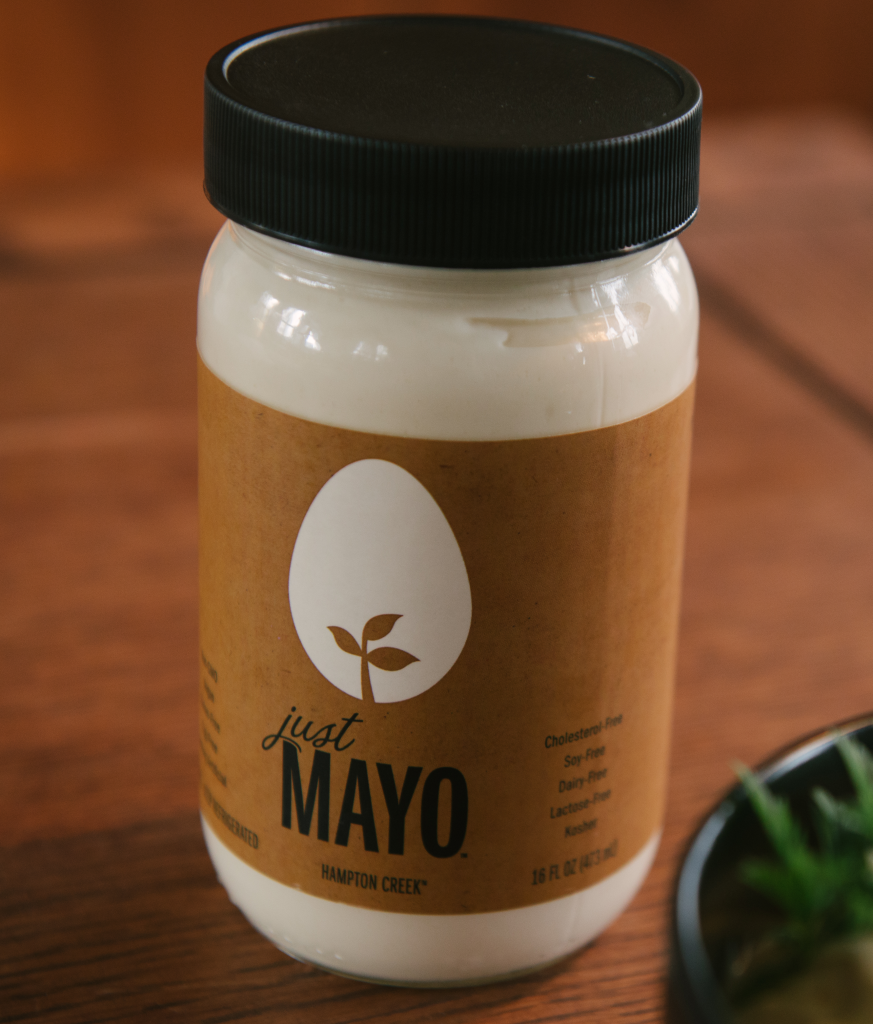 Business school pop quiz: What's a $60 billion global behemoth to do when a San Francisco start-up cuts into their profits? If answers like "innovate your products" or "hire a better marketing team" come to mind, you must not work at Unilever. That company's response to competition is to take them to court. Unilever owns many top food brands such as Best Foods (and is also the largest deodorant maker in the world). The company is suing Hampton Creek for unfair business practices and false advertising, claiming their plant-based product called Just Mayo is deceptive to consumers because it doesn't contain eggs. Actually that's the whole point: to not use eggs.
Started in 2011, Hampton Creek has received a lot of media attention (and financial backing) for its scientific approach to making plant-based alternatives to eggs, aiming at the heart of a cruel and unsustainable industry. The company's first consumer product, Just Mayo has enjoyed a fast rise to success, not only in natural retail channels like Whole Foods, but also mainstream markets such as Walmart, Costco, Target, and even Dollar Tree. Unlike previous vegan spreads that mimic mayonnaise, Just Mayo is not aimed at just being a niche product; and that's exactly has Unilever, maker of Hellmann's and Best Foods, shaking in their boots.
Cleaning up a dirty and outdated industry
It's an idea whose time has come. The conventional egg industry is notoriously inhumane and wasteful. It's not just that egg-laying hens live in cramped conditions, but egg production uses an unbelievable amount of energy, especially when compared to Hampton Creek's approach. Here is how Forbes describes the comparison: "The ratio of energy input to food energy output for chicken-laid eggs is about 39-to-1, behind only beef and lamb farming. Hampton Creek's plant products maintain a ratio of 2-to-1." This translates directly into costs savings for consumers.
So Hampton Creek has figured out how to make a mayonnaise product that avoids cruelty to animals (and salmonella), conserves huge amounts of energy, and costs less. And if you're wondering how it tastes, I was blown away by the similarity in flavor and texture, and judging by the brand's fast growth, it's obviously a huge hit.
But instead of keeping up with changing times, Unilever is determined to remain stuck in the past. In its legal complaint, the company argues that Just Mayo cannot possibly be mayonnaise because both the dictionary and the Food and Drug Administration say that mayonnaise contains egg. Over and over, like a hurt child, Unilever lawyers argue: "Just Mayo is not mayonnaise. It does not contain any egg." Yes, we know. That's Hampton Creek's entire business model, they aren't hiding it. It's right there on the ingredient label. No eggs.
I am the first one to call out deceptive marketing, for example, when Coca-Cola makes a product called "Pomegranate Blueberry Flavored Blend of Five Juices" that contains only .3 percent pomegranate and .2 percent blueberry. Pom Wonderful is suing Coca-Cola using the same federal anti-competition law that Unilever is citing, and the U.S. Supreme Court recently gave that case the green light. But in contrast, Hampton Creek is completely up front about what it's doing: making a plant-based mayonnaise. Moreover, the product has been covered in major media outlets like Time, Forbes, and Fortune so how can it possibly be deceiving anybody?
This case is just a desperate attempt to get the courts to intervene in marketplace competition. (Funny how Corporate America loves the term "free market" except when they are under threat.) Unilever's own legal complaint says it best: "Hampton Creek is seizing market share from Unilever's Best Foods and Hellmann's brands of mayonnaise products." That's called capitalism.
Now it's true that FDA's "standard of identity" (i.e., definition) for mayonnaise includes eggs; well specifically, "egg yolk-containing ingredients", yum. But that simply reflects an out-dated regulation badly in need of a 21st-century upgrade. (According to FDA, mayonnaise was first defined in 1957.) It's not Hampton Creek's fault if its innovation is out-pacing federal regulations. That's par for the course in almost any technology-driven industry. The company's CEO Josh Tetrick told Food Navigator yesterday that FDA has only defined "mayonnaise" but not "mayo", and that other vegan spreads use that word as well.
To put this lawsuit into perspective, it's the equivalent of the biggest bully in the school yard beating up the nerdiest kid. In this case, the bully just also happens to source eggs from producers that engage in the cruel practice of maceration – grinding or suffocating baby male chicks while still alive – because males are useless in egg production. Unilever promises that practice will end, but offers no timeline. Ironically, Unilever also says they are exploring "preferences for plant-based protein sources through the use of egg-replacement ingredients". Great idea, get on that.
So instead of putting the company's massive resources toward cleaning up its own act, Unilever has instead chosen to attack a competitor that has solved the problem.
Unilever is asking the court not only to make Hampton Creek stop using the Just Mayo name (and remove all current product from store shelves), but also to pay Unilever the amount obtained from profits, plus triple damages. It's quite likely this arrogant move will backfire, as the case could bring more sympathy, not to mention sales, to Hampton Creek. Maybe it's time for a legal defense fund too. As I recently predicted, we are likely to see more of these sorts of legal challenges as innovation collides with dinosaur food companies unwilling to get out of the way, bolstered by a regulatory system maintaining the status quo.
If you want to tell Unilever to stop the bullying, you can sign this Change.org petition, which was started by celebrity chef Andrew Zimmern, who says he preferred the taste of Just Mayo to Hellmann's, calling it his "must have" brand, after a blind taste test. And you can download and share this document from Hampton Creek in response to the lawsuit.
Tell Unilever if the competition is making them sweat, maybe they need some more deodorant.
Michele Simon is a public health attorney with 18 years of experience in food and beverage law, the author of Appetite for Profit, president of Eat Drink Politics, and works of counsel with Foscolo and Handel, The Food Law Firm.